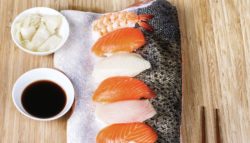 On average, 30% of seafood across the world is misdescribed or mislabelled.
Seafood fraud, the selling of seafood products with a misleading label, description or promise, has become a widespread form of food fraud in order to reap higher profits. Not only does this illegal activity threaten the bottom line of honest fishers and seafood traders, it undermines the progress being made by sustainable fisheries.
The need for traceability in the seafood sector is now widely recognized.
Major seafood import markets such as the U.S., Japan and the EU have introduced traceability components to their import regulations in recent years. But despite increasing legislation, a recent global analysis revealed that on average 30 percent of seafood across the world is misdescribed or mislabelled,[1] with figures as high as 43 percent reported in some species-specific studies.[2]

Seafood HACCP Training – 1 hr: $75.00
The Seafood HACCP Safety Training Course was designed to meet the training requirements established under the FDA mandatory Seafood HACCP Regulation (21 CFR Part 123). Likewise, this course was developed to provide an easy method for individuals in the seafood industry and regulatory community to obtain training on Seafood HACCP Principles anywhere and anytime.
Consequences of Seafood Fraud
The implications of seafood mislabelling can be alarming and wide ranging.
IUU: Illegal, unreported and unregulated (IUU) fishing refers to fishing activities that do not comply with national, regional or international fisheries conservation or management legislation or measures. A global analysis of IUU fishing from 54 countries, comprising 75 percent of global catch, revealed that an estimated 11–26 million tons of IUU fish are landed each year, representing a loss of between $10B and $23.5B to the fishing industry.[3]
Consumer health implications: Not only can mislabelled seafood affect ocean health, it can have health implications for consumers. Although not all traceability systems specifically include food safety requirements, the simple substitution of one fish for another can lead to consumers unwittingly purchasing fish that should be presented with health warnings.
Consumer deception: Consumers are increasingly demanding fish from sustainable sources often using 'fish to eat/avoid' guides to aide their purchasing choices. Others make an ethical decision to choose wild-capture fish over farmed products. Where fish are incorrectly labelled, these consumers could unwittingly be eating options that are less sustainable, or that do not meet their ethical criteria.
Health Risks of Seafood Fraud
In some cases, seafood fraud can directly threaten human health. Seafood in general is extremely sensitive to proper handling and refrigeration, and in some cases can cause severe illness if not handled properly. Swapping one fish species for another that may be riddled with contaminants, toxins or allergens can make people sick.
One health concern is ciguatera, which formerly occurred primarily in tropical regions, but is now increasingly imported along with the large reef fish that carry this form of food poisoning. Ciguatera can last for weeks or even months, with symptoms including nausea, diarrhea, numbness, blurred vision and even reverse temperature sensation — where hot feels cold and vice versa. Ciguatera can be debilitating, with severe neurologic symptoms, and may recur throughout a person's life.
Allergens may be the most life-threatening risk of seafood fraud. Fish and shellfish are among the most common food allergies in the U.S., along with peanuts and tree nuts. Failure to declare potential allergens involving shellfish, shrimp, and other species is considered an emerging problem for public health.
These are not theoretical threats. For example, Oceana's studies found tilefish mislabeled as red snapper and halibut in New York City, and king mackerel mislabeled as grouper in South Florida. These are two types of fish that are on the FDA's Do-Not-Eat list for sensitive groups such as pregnant women and children because of their high mercury content.
Report: Highlights from Oceana's National Seafood Fraud Testing Results
References
1. Pardo, MÁ, E Jiménez and B Pérez-Villarreal. 2016. "Misdescription Incidents in Seafood Sector." Food Control 62:277–283.
2. usa.oceana.org/sites/default/files/salmon_testing_report_finalupdated.pdf.
3. Agnew, D and CT Barnes. 2004. "The Economic and Social Effects of IUU/FOC Fishing: Building a Framework," in Fish Piracy. Combating Illegal, Unreported and Unregulated Fishing, 19–49. Paris: OECD.